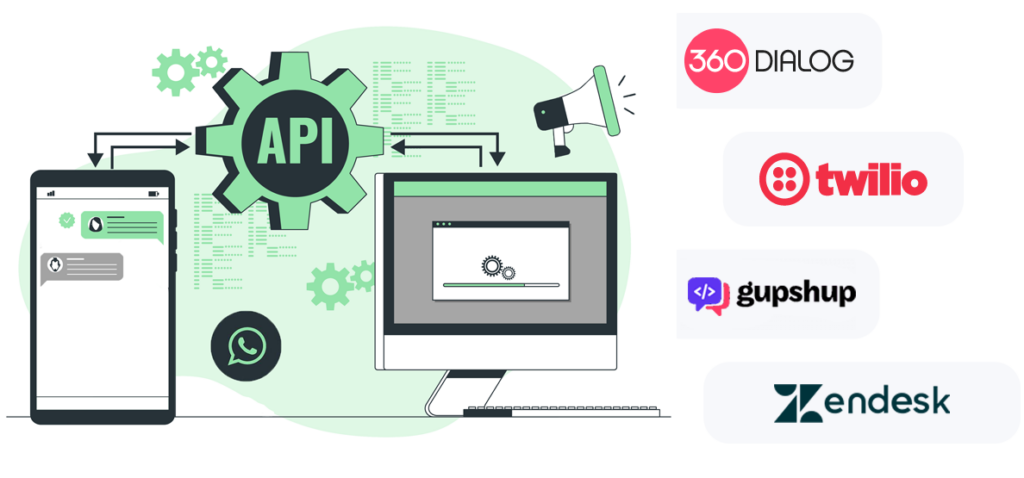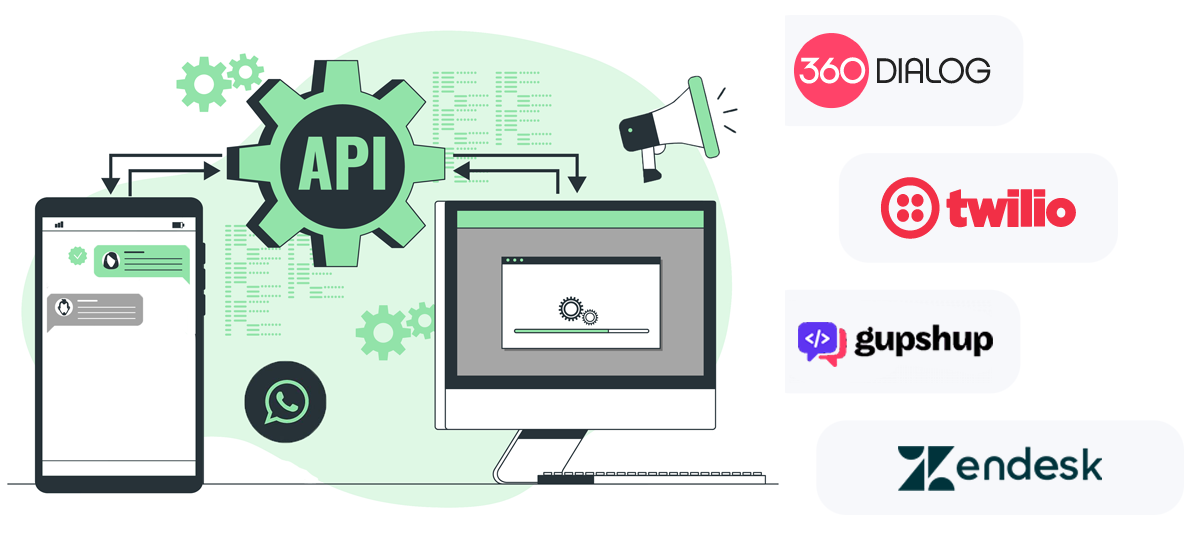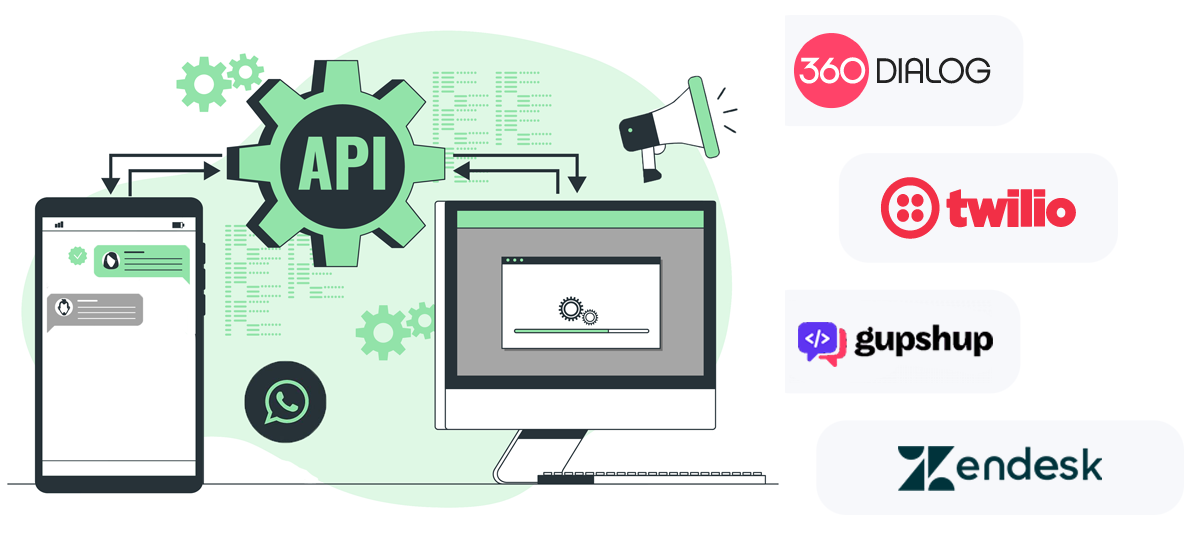 Since 2019, businesses started ditching some traditional marketing channels in favor of WhatsApp bulk messaging and newsletters for better outcomes. Here are some examples:
In 2022, retailers in Germany, like

REWE

and

Aldi

have turned their printed leaflets into WhatsApp flyers, which decreased print costs and increased open rates.

In January 2023, BILD.de, a tabloid newspaper, reached a 90% open rate with its WhatsApp Newsletter created for FC Köln (

Full story

).

Bank Mandiri, an Indonesian bank, achieved a 42% increase in net margin interest income by switching from SMS to WhatsApp for automated push notifications (Full story)
These businesses have one common success factor, an official WhatsApp Business solution provider (BSP) to launch their WhatsApp newsletter campaigns.
Why is the WhatsApp API required to send WhatsApp Newsletter?
The use of WhatsApp Newsletter to share updates, promotions, and valuable content with users became prevalent around 2017-2018. However, this has led overwhelming number of unsolicited messages and spam, and eventually, WhatsApp discontinued its broadcasting feature in December 2019. 
Since then, businesses had to use the official WhatsApp Business API to bulk send messages or newsletters. These messages can only be sent to customers that agree to receive messages through an opt-in method such as a subscription form.
WhatsApp Newsletter - conversation pricing
Whatsapp newsletter messages are categorized as "Marketing Conversations" as of June 2023. Meta defines marketing conversations as messages that contain promotions or offers, informational updates, or invitations for customers to respond or take action. 
Marketing conversations aren't free, and the pricing depends on the business's location. You can check examples of the Marketing conversation prices below or view the complete list in Meta's documentation.
Cost per marketing conversation in USD, effective June 1, 2023,
| Market | Currency | Marketing Conversation |
| --- | --- | --- |
| Argentina | $US | 0.0618 |
| Brazil | $US | 0.0625 |
| Chile | $US | 0.0889 |
| Germany | $US | 0.1365 |
| India | $US | 0.0099 |
On top of WhatsApp Messaging costs, Business Solution providers charge license fees or a markup per conversation, sometimes also set-up fees, etc… So, launching a WhatsApp Newsletter campaign has a different cost with each BSP.
What is the best BSP to launch your WhatsApp newsletter?
To launch a successful WhatsApp newsletter campaign, it's important to choose a BSP with the following:
Reliable hosting and high Bandwidth to send out thousands of messages

Proficiency in automation and messaging workflows

Expertise in generating subscription methods

Tracking and attribution feature to measure success
This article covers some of the most reliable WhatsApp Business API providers that meet most of the requirements to create successful WhatsApp newsletter campaigns.
The WhatsApp API providers in this article are not listed by importance or company size, and choosing one to create a WhatsApp Newsletter campaign depends on your company's needs and standards.

360dialog
360dialog is a leading provider of WhatsApp Business API solutions. With their specialized expertise in WhatsApp newsletter and marketing automation, they offer tailored solutions based on the business size, messaging volume, and number of subscribers. 
360dialog's WhatsApp Newsletter solutions
WhatsApp Newsletter & Marketing automation: 360dialog excels at helping companies send highly targeted WhatsApp messages at scale. 360dialog has successfully helped big enterprises, some of which are mentioned above, launch their WhatsApp Marketing campaigns and achieve the following:
Higher Open rates

Higher Conversion rates

Lower cost per lead
Performance Marketing and WhatsApp funnel tracking: On top of WhatsApp marketing automation and Newsletter solutions, 360dialog offers a WhatsApp performance marketing and Analytics solution. This enables enterprises to launch data-driven WhatsApp Marketing campaigns and achieve the best results. 
Ads that click to WhatsApp for Facebook and Instagram: 360dialog's clients can acquire leads or clients and direct them to their WhatsApp team inbox through ads that can be displayed across Facebook and Instagram with a WhatsApp button. 360dialog is one of the few businesses that enable this feature alongside source tracking.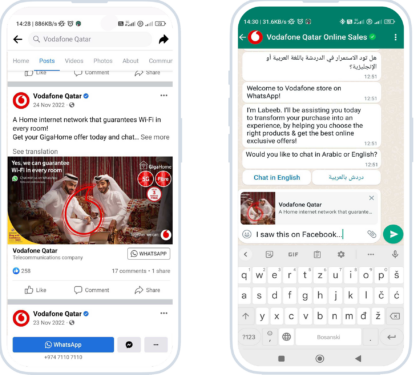 Pricing
360dialog follows transparent pricing practices by not imposing any extra charges on top of the conversation pricing set by Meta.
 The BSP provides flexible pricing plans tailored to the number of conversations and subscribers. It's worth mentioning that the company has fixed monthly hosting fees and, in certain instances, setup fees, but these charges are determined based on the specific client's.

Who does it suit?
360dialog's WhatsApp Marketing automation product is the ideal choice for big enterprises that want to launch a promotional WhatsApp Newsletter campaign fast and send out messages to 5000+ subscribers based on their location and other attributes.

Twilio
Although considered one of the top-rated BSPs, Twilio doesn't focus on only providing the WhatsApp Business API. The company provides omnichannel messaging solutions that involve SMS, MMS, Google Business messages, and Facebook Messenger too. 
Twilio's solutions
The programmable Messaging API fits companies seeking to utilize an API for sending one-way WhatsApp, SMS, and MMS messages for alerts, notifications, promotions, and marketing messages. 
Twilio Segment enables companies to send highly personalized communication through WhatsApp and other channels based on customer data.
The unique thing about the Twilio segment is its Customer Data Platform (CDP). The CDP is a software solution that consolidates data from various sources, creating a centralized customer database that encompasses all interactions and touchpoints with your product or service.
Twilio Engage, a part of Twilio Segment, empowers users to deliver personalized experiences to customers through various channels, including Twilio's native email and SMS channels, custom channels, and over 400 pre-built integrations, ensuring tailored engagement at the right time and in a preferred manner.

Pricing
Twilio provides a pay-as-you-go pricing model.
However, according to their pricing plan, Twilio includes an additional per-message cost of $0.005 (June 2023), which does not scale well. 
Additionally, the cost may increase if a company opts for Twilio Engage and Segment products. Twilio Engage is free for up to 100 users, with pricing plans starting at $120 monthly.
Professional services are not included and are available for an extra fee.

Who does it suit?
Twilio suits companies that are looking for omnichannel messaging services and bulk SMS. Their main focus is on a platform that integrates multiple communication channels.
If your product creates a lot of messages per WhatsApp conversation, the cost can be very high. For example, In India, when a business has 2 messages per conversation, the price per conversation doubles.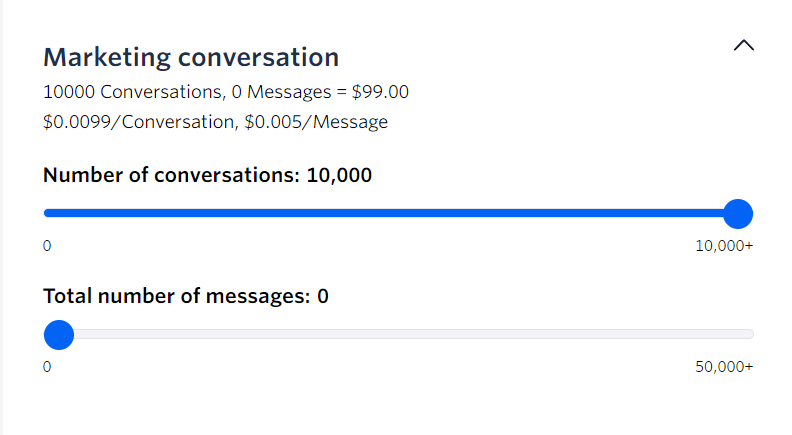 Notice how the price doubles (from $99 to $199) with 2 messages per conversation in the screenshot from Twilio's price calculator below.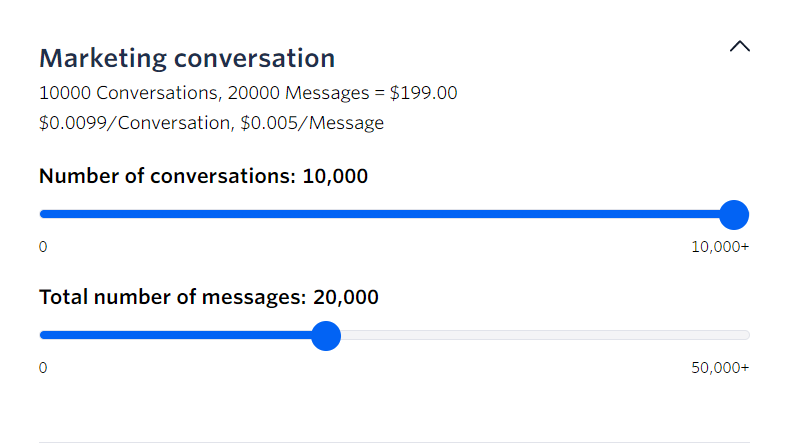 Please note that in other countries the costs are different. But businesses should keep in mind that when sending bulk WhatsApp messages through Twilio, the costs can increase drastically when thousands of users interact with these messages.

Gupshup
Gupshup is an Indian provider offering an API for WhatsApp. If the business is in India, they are a relevant player. However, they put a markup on the messaging cost, which is not scaling well. 
Gupshup's WhatsApp Newsletter Integrations
Gupshup provides an omnichannel marketing automation platform that covers WhatsApp, SMS, and Rich communication services. According to Gupshup's documentation, it is possible to manually send WhatsApp promotions, offers, and back-in-stock notifications to a list of subscribed users.
However, this is only possible with third-party integrations, mainly CRM or Marketing automation tools; the WhatsApp bulk messaging workflow can be set up manually through the following CRM integrations:
ZohoCRM – Users can send bulk messages to 1000 leads at a time

HubSpot – Businesses should have a license that gives access to HubSpot's automation workflows

Salesforce – Available only with a paid license

Pricing
Gupshup charges the Marketing conversation price as specified by Meta and adds a $0.001 markup per template message, session message, and additional media. For additional media that exceeds 5MB, Gupshup charges up to $0.02 per media file. In addition to that, HubSpot plans needed for bulk messaging and automation start at $360 per month. Salesforce starts at $25 per user monthly, and ZohoCRM starts at $35.

Who does it suit?
Gupshup suits companies in markets with low cost per marketing conversation, such as India. It also suits businesses looking to launch a multichannel automated marketing campaign. 
However, the solution can be quite expensive for companies willing to launch a WhatsApp newsletter campaign while expecting a heavy exchange of messages between the business and the user. 

Hello Charles
Hello Charles offers WhatsApp marketing and advanced automation solutions for businesses. The company enables mid to large eCommerce brands to integrate a WhatsApp channel into their marketing mix.
Hello Charles WhatsApp Newsletter solutions
Hello Charles offers a WhatsApp Newsletter solution and a WhatsApp marketing automation solution called "Journeys." Here are some of the features of their solution:
Delayed messages
Interactive messages
Automated Voice memos
Chat tagging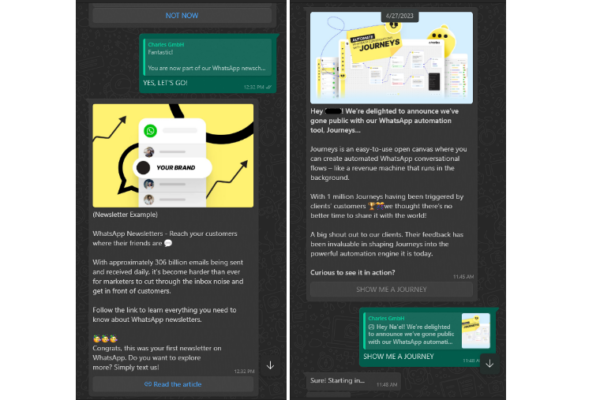 Pricing
Hello Charles's pricing starts at €349/month, according to the software review website Capterra. Like other BSPs, they charge a fee per conversation determined by WhatsApp. However, Hello Charles charges an additional cost per conversation besides WhatsApp's fees.


Who does it suit?
The Saas Company was initially a Fashion brand developing its own WhatsApp e-commerce solution and later became a WhatsApp Business Solution provider. And that's why their main target and clients are eCommerce businesses.
Hello Charles can be a good solution for e-commerce businesses to acquire and retain customers. 
However, Hello Charles charges an Additional cost per conversation on top of the fee defined by WhatsApp's conversation-based pricing. This means that the solution might not scale well for businesses that want to initiate a high volume of Marketing conversations
CRM providers like Zendesk or Brevo

Zendesk's WhatsApp Bulk Messaging Solution
Zendesk is a customer service software company that provides a cloud-based customer support platform. It offers tools and features to help businesses manage customer interactions and support tickets across various channels, including email, phone, chat, and social media. It also provides analytics and reporting capabilities to track and analyze customer support metrics.
To access the WhatsApp Business API through Zendesk, users are required to have an active Sunshine Conversations license. In addition to the license, additional connectors must be installed from the Zendesk marketplace to unlock WhatsApp Bulk messaging and automation features.
This solution is ideal for small to medium-sized companies already using Zendesk as their CRM software. While the manual bulk messaging process using CSV files may have limitations for larger enterprises with over 10,000 potential WhatsApp Subscribers, it proves highly effective for smaller businesses managing client and contact interactions through Zendesk.

Pricing
To utilize the WhatsApp Business API through Zendesk, a Sunshine Conversations License is necessary, available with the Suite Professional Plan starting at $99 per agent per month.
This plan encompasses 1000 monthly active users and 1000 monthly notifications via the Sunshine conversation API. Additional user packs of 2500 users can be obtained for $50, while extra notification packs of 25,000 can also be acquired for $50.
Furthermore, users must pay per WhatsApp Marketing conversation as specified by Meta, with a $100 monthly fee in case they install the Reach app for bulk messaging.

Brevo's WhastApp Broadcasting messages solution
Brevo (formerly known as Sendinblue) is a marketing platform that offers a wide range of services, including email marketing, SMS marketing, chat, CRM, and automation.
Brevo's CRM provides access to the WhatsApp API, allowing users to manage email. SMS and WhatsApp campaigns. With Brevo, users can use the following WhatsApp Broadcasting features:
Ability to choose existing templates or create ones with a visual editor

Sign-up forms to build WhatsApp contact lists

CRM to store and manage contact lists

Platform to monitor template status and campaign performance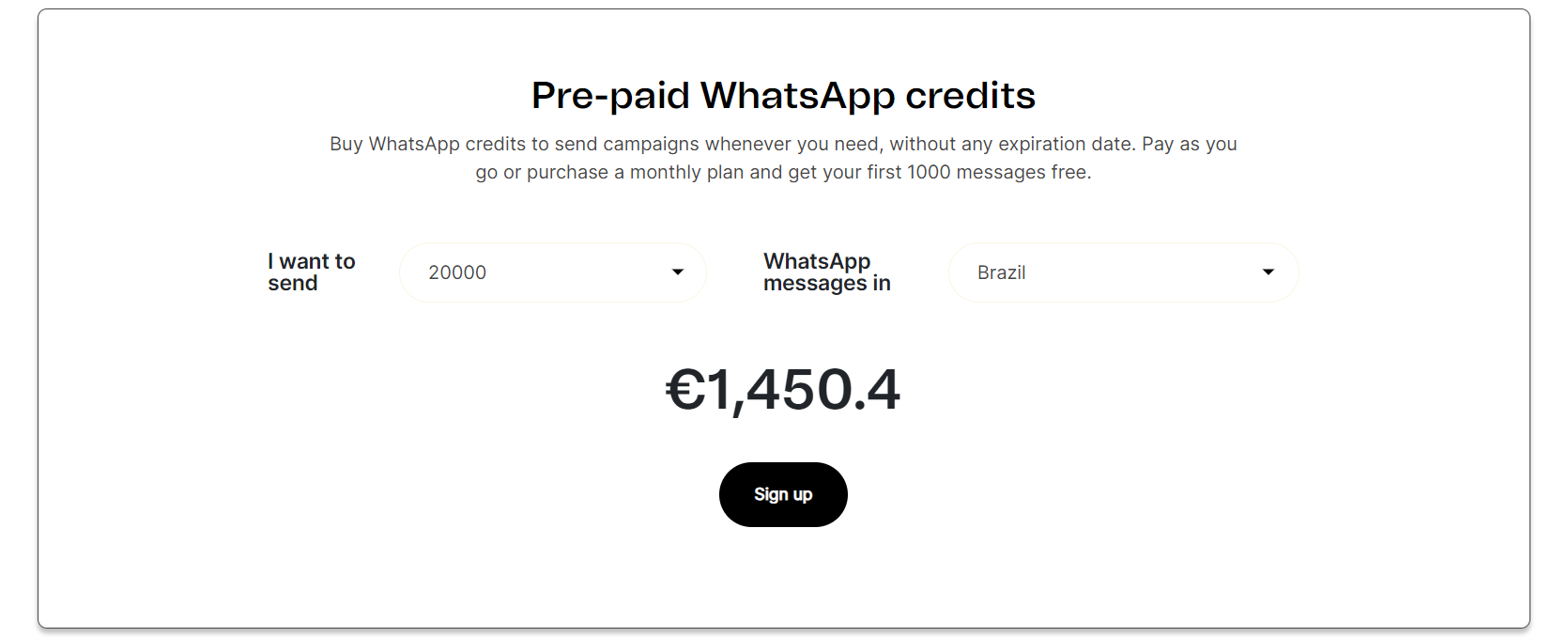 Pricing
Brevo provides a pay-as-you-go pricing model, where businesses are charged based on the number of messages they send. A free allowance of 1000 conversations is only available with their monthly plan starting from $49.
Brevo adds around 16% on top of the pricing specified by Meta, so with a 100k messaging cost, the solution can be pretty expensive.
Shared Inbox Solutions like Trengo & Sleekflow

Trengo's WhatsApp Newsletter feature
Trengo is a multichannel Inbox that features WhatsApp as one of the messaging channels. The platform is not built specifically built for WhatsApp Newsletters and Marketing automation. However, it is possible to launch a WhatsApp marketing campaign with Trengo's inbox.
WhatsApp Newsletter: Businesses can use Trengo's team inbox to send WhatsApp newsletter messages to clients. Newsletters with Trengo can be built up with short and interactive messages. A good example of this is the WhatsApp Newsletter Trengo built for Booking.com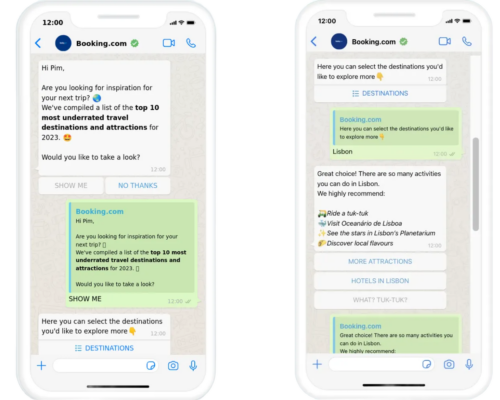 Trengo's Newsletter solution is a mix of their inbox's broadcast feature alongside the flowbot and their rule engine.

Pricing
Trengo's pricing is a bit complicated, and it depends on many variables, including the number of users, WhatsApp conversations, and conversations automated by Flowbots.
Monthly payment: €190 per month for 5 users + €38/month (Yearly payment) or €45/month (monthly payment) for every additional user
Flowbots: The cost also varies based on the number of conversations automated by Trengo's Flowbots:
1 – 1.000 conversations: €49
1.001 – 5.000 conversations: €149
5.001 – 10.000 conversations: €249
10.001 – 25.000 conversations: €499
25.000+ conversations: €999
WhatsApp conversations: Based on WhatsApp's conversation-based pricing.
So given that an enterprise is based in Germany and opts in for the minimum number of users. Starting 1 WhatsApp Newsletter conversation with 10,000 users can cost around €1,820 per month ( €499  +€190/users + €499 for the Flowbots + €1131 for WhatsApp conversations.

Sleekflow's WhatsApp Newsletter software
Sleekflow's solution is similar to that of Trengo's, given that it is initially a shared Inbox that enables broadcasting WhatsApp messages and automating the response flows with rules specified by the business.
Besides that, Sleekflow users can view some basic analytics related to their WhatsApp campaigns, such as:
Delivery rate
Click through rate
Open rate

Pricing
Sleekflow's pricing plans start at $349/month for companies with up to 10,000 contacts. And then it's $49 for each additional 2000 contacts and $99 for payment integration. On top of that, Sleekflow charges $499 for Onboarding support, which includes:
SleekFlow account setup
Facebook Business verification
Official WhatsApp API application
1-hour user training session
The monthly subscription price for their enterprise plan is undisclosed. The price per conversation is based on the official WhatsApp conversation-based pricing.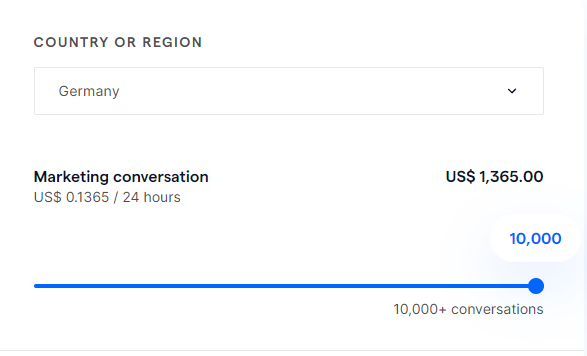 Recommendation to choose the right WhatsApp newsletter provider
Each Business Solution Provider has its focus and WhatsApp Newsletter features.
Twilio is an ideal solution for businesses seeking to streamline their messaging campaigns across various channels, including SMS, MMS, Email, and WhatsApp. It also provides a unified customer database, enabling companies to consolidate customer data from these platforms and enhance communication by delivering more targeted and personalized experiences.
If you already use Zendesk or Brevo, it makes sense to start with them. When you scale to a relevant amount of messages, both solutions will scale relevantly on the cost side. The same problem occurs with Twilio.
As an enterprise aiming to launch a WhatsApp newsletter for a large subscriber base of 10,000+, 360dialog occurs as the best solution.
Small businesses or businesses looking to launch a multichannel campaign, including SMS, might prefer the Gupshup API. Your company must assess its needs and use case and contact the appropriate BSP for further information.
E-commerce businesses that want to sell and promote their products via WhatsApp can find Hello Charles as a good fit.
Finally, Businesses looking for an omnichannel inbox with a self-serve WhatsApp Newsletter feature can use solutions like Trengo or Sleekflow.