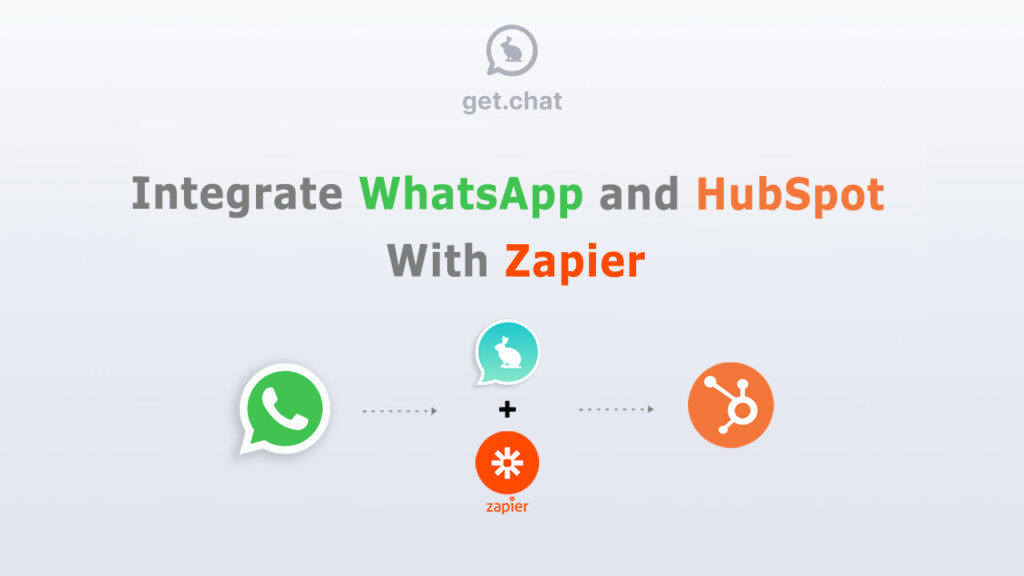 Integrate WhatsApp with Hubspot in 2 mins
Here's a quick video tutorial that shows you how to automatically register WhatsApp contacts in HubSpot by creating a Zap.
This video shows an example of how to register WhatsApp contacts in HubSpot automatically via the get.chat and Zapier integration. Although integrating WhatsApp with Zapier directly isn't an option at the moment, get.chat provides a workaround and enables you to connect WhatsApp with other applications on Zapier. 
 This enables you to automate multiple repetitive tasks, and registering contacts in HubSpot is one of them.
Start Free Trial!
Why use Zapier to integrate WhatsApp with HubSpot
get.chat can be integrated with HubSpot to the point where you can answer WhatsApp messages right within HubSpot. But if you want a more customized integration, or if, for example, you only want to connect HubSpot and WhatsApp to register contacts only, Zapier can help you out.
With Zapier you have way more control over the connections between the two apps. You can set the trigger and action(s) yourself, and determine which automation will take place based on these. You can also connect WhatsApp with multiple applications simultaneously.

get.chat enables the connection between Zapier and WhatsApp through its Integration API which acts as an extension for the WhatsApp Business API.  get.chat's API enables the exchange of data between WhatsApp and third-party solutions such as Zapier.
Learn more
What is Required to integrate WhatsApp with HubSpot through Zapier?
In order to be able to successfully integrate WhatsApp with Zapier, you need the following:
Phone number

Admin access to Facebook Business

WhatsApp Business API

get.chat account

HubSpot account

Zapier account
get.chat enables the integration between WhatsApp and Zapier based on the WhatsApp Business API, which in turn requires you to have a phone number and admin access to your Facebook business account.
Steps to integrate WhatsApp with Hubspot by with a Zap.

1-Create and name your Zap
Zaps are automated workflows that connect your apps and services. Every Zap consists of one trigger and one or multiple action events. You can either create a Zap from a template or from scratch.
In this tutorial, we will create one from Scratch. So all you have to do is go to your Zapier dashboard and click on "Create Zap", then make sure to name it based on your preferences.
2-Set up the Trigger
The trigger is the event specified by the user that starts the Zap. Once you've set up a Zap, Zapier will monitor for that trigger event. In this tutorial, we are setting up a Zap where an incoming message on WhatsApp will be the trigger.
This means that every time we receive a message on WhatsApp a certain action will be taken which will be registering the contact information in Hubspot in our case. In order to set up the trigger:
Search for get.chat in the triggers' search bar and select it

Choose "Get New Incoming Messages" as the trigger event

Choose your get.chat account. You will be asked to log in the first time you set up this trigger.

Click on "Test Trigger" and make sure that it's working correctly. If not go back to the previous steps and make sure that everything is in place. You can also follow Zapier's instructions to troubleshoot the issue if it happens.
3-Set up the Action
 In Zapier, an Action is a specific event that happens after the trigger event you specified occurs. In our case, we want a contact to be created in HubSpot every time a message is received. Therefore in our case creating a contact in HubSpot is the action. Here's how to set up the action:
Look for "HubSpot" in the Action's search bar and select it.

Choose "Create Contact" as the event. You can either type it in the search bar or look for it in the drop-down options.

Choose your HubSpot account. You will be asked to log in the first time you set up this action.

The next configurations are optional and can be skipped. 

Click on "Test & Continue" to make sure that your action is set up correctly. If you receive any errors, review the previous steps and follow Zapier's troubleshooting instructions.
4-Turn on your Zap!
The final step that is required to integrate WhatsApp with HubSpot is to simply switch the Zap toggle on. After this step is complete, contacts should be created in HubSpot every time you receive a message on WhatsApp.
You can test this yourself by sending a WhatsApp message from a personal account to your WhatsApp Business account and checking whether the contact information is getting registered in HubSpot.